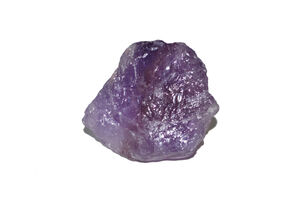 Lithelu, meaning Shining Rock in Perpetual Tongue, is a purple ore found in central and west Hapec. It is hoarded by the Perpetual Elves of the Perpetual Peninsula.
Properties
Edit
Lithelu can withstand temperatures of up to 1500°C. It is about twice as strong as steel, but it is a tricky metal to forge, with only specific Perpetual Elves able to do so. Lithelu can also let light pass through it, depending on the thickness of the material.
Another interesting note about it is that if it is given magic to hold, it can store one Mard in a 50 cm cube.
Lithelu is used in the armour and weapons of the Perpetual Elves. It can also be used as a decoration in stained glass windows or it can simply be used as a purple lamp if it surrounds the outside of said lamp.
Ad blocker interference detected!
Wikia is a free-to-use site that makes money from advertising. We have a modified experience for viewers using ad blockers

Wikia is not accessible if you've made further modifications. Remove the custom ad blocker rule(s) and the page will load as expected.